Fashion Styling & Communication
Language
Italian - English
Objectives of the Bachelor's Degree in Fashion Styling & Communication
The three-year bachelor's degree course in Fashion Styling & Communication at Accademia del Lusso aims to provide transversal skills in the field of communication and train professionals capable of playing key roles within the fashion system. Communication in all its forms is an essential lever for storytelling, interpreting, and promoting a brand across various channels. In particular, the degree course aims to prepare specialists in fashion communication management through an in-depth knowledge of the characteristics and potential of all media. Fashion stylists plan branding operations, oversee content production, and organize editorial activities in fashion and styling by applying artistic methods and techniques to master communication tools.
Through practical workshops, students will learn to design and curate the image of a brand or fashion collection for photoshoots, events, and other promotional activities to build an exclusive image that interprets the brand's identity, values, and aesthetics. At the end of the course, students will have acquired the skills to design an effective image, develop storytelling, and create a comprehensive portfolio.
The three-year course in Fashion Styling & Communication is accredited by the Italian Ministry of University and Research (MUR) with Ministerial Decree No. 59 of January 18, 2021 and is authorized to award the Academic Diploma of First Level, equivalent to a Bachelor's degree of First Level. The course is worth 180 credits.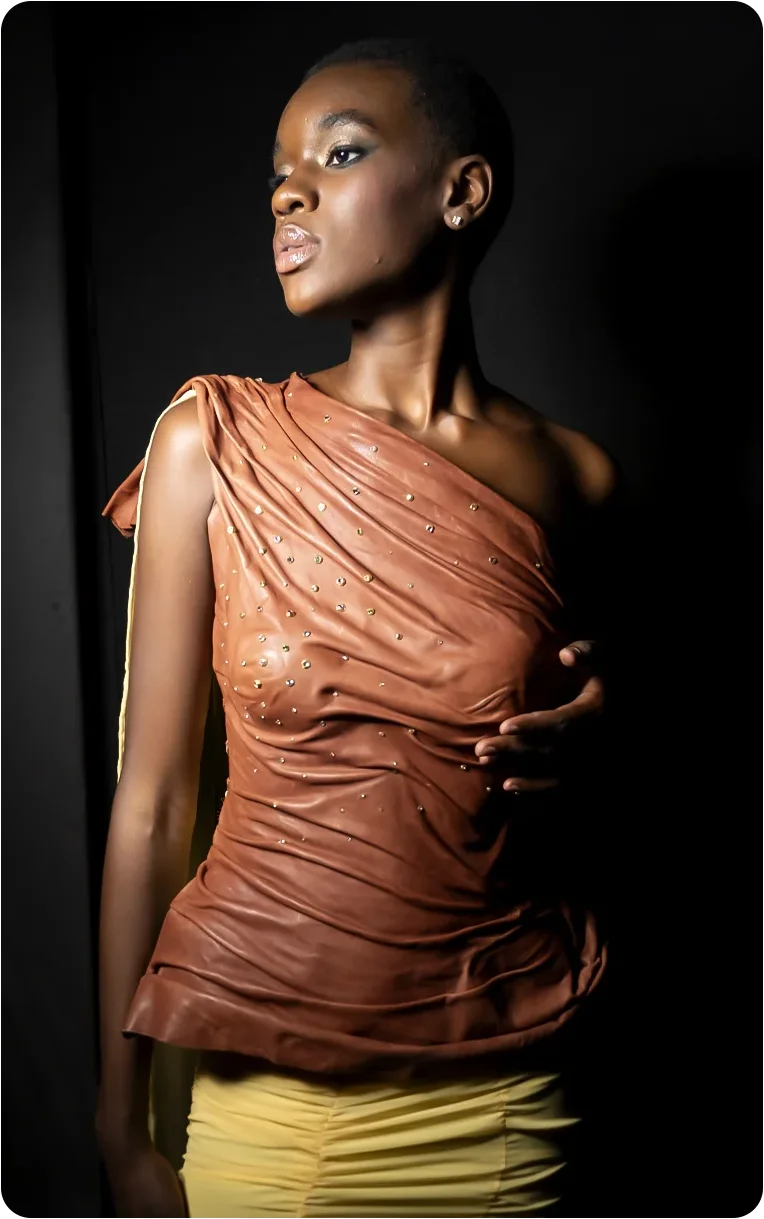 Admission Requirements
High school diploma
Adequate knowledge of the language of instruction to be demonstrated through a formal certificate or Skype interview (for non-native speakers)
Degree Awarded
Academic Diploma of First Level, equivalent to a Bachelor's degree of First Level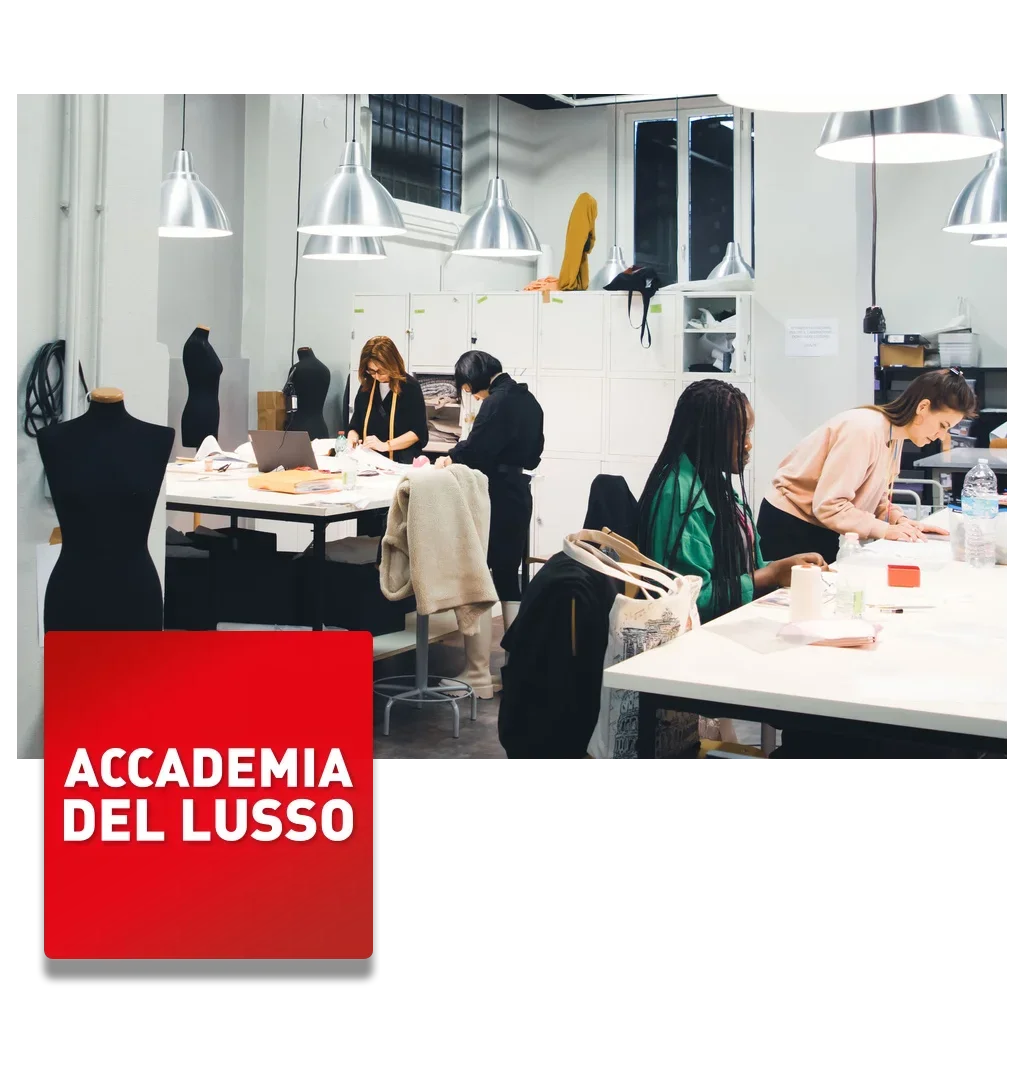 Teaching Methodology
The three-year bachelor's degree program in Fashion Styling & Communication includes theoretical lectures in the classroom, workshops, and practical project experiences, both on-campus and externally.
The teaching activities at Accademia del Lusso are dynamic and interdisciplinary. The program of the three-year post-diploma course in Fashion Styling & Communication includes various types of lessons and activities, diversified in terms of their characteristics and educational objectives.
Students' preparation is assessed through periodic evaluation tests. At the end of the course, each student must take a final exam and present their thesis to the Examination Board at Accademia del Lusso.
Classroom Lectures
Frontal teaching with mandatory attendance. Theoretical, theoretical-practical, and practical subjects.
External Visits
Visits to museums and showrooms, analysis of fashion and luxury locations.
Seminars
In-depth seminars with representatives of the fashion & luxury system.
Work Weeks and Workshops
Interdisciplinary training workshop focused on the development of an assigned project.
Study Plan
Art History 1
Sector Code: ABST47 - CFA: 4

The main artistic movements from the Renaissance to the end of the eighteenth century. The evolution of styles in relation to the world of fashion and applied arts.

Methodology for Fashion Image Design 1
Sector Code: ABPR15 - CFA: 2

Tools for researching and analyzing contemporary fashion. Recognizing and reporting fashion trends. Creating thematic content. Styling areas and target audiences. How to interact with the media. Translating trends. Iconographic communication.

Computer Graphics for Fashion 1
Sector Code: ABTEC38 - CFA: 4

Tools for digital image manipulation. Photoshop: basic tool management, use of layers and masks, retouching tools.

Product Communication for Fashion 1
Sector Code: ABPC67 - CFA: 8

Lexicon and tools for understanding communication techniques. Analysis of advertising announcements: structure and content.

Fashion Journalism Writing
Sector Code: ABPC67 - CFA: 3

Basics for writing articles related to fashion journalism. Analysis of the methods and techniques used in editorial types. Production of articles and writing exercises.

Textile Culture and Color
Sector Code: ABPR34 - CFA: 9

Analysis and evolution of textile products from ancient times to the present. Perceptual, communicative, social, symbolic, aesthetic, and synthetic aspects of color.

Brand Design
Sector Code: ABLE69 - CFA: 7

Strategic marketing. Needs identification. Competition analysis. Effective promotion. Leading companies: case histories.

Fashion History and Design 1
Sector Code: ABST48 - CFA: 6

The historical evolution of fashion and costume from the beginnings of Mesopotamian textiles to the early European and American 20th century.

Fashion Design 1
Sector Code: ABPR34 - CFA: 5

Basics of drawing for fashion figure and technical drawing development. Basic principles of stylization. Silhouette creation for fashion design. Rendering techniques. Development of personal style. Knowledge of processes for creating fashion products and collections.

Make-Up Techniques for Performance
Sector Code: ABPR33 - CFA: 3

The stylist. Study of image and aesthetics. Historical analysis of makeup in performance. Icons that have marked an era. Complete project: clothing, makeup, and hair. Differences between beauty image and fashion image. Collaboration with makeup artists and hair stylists.

Art History 2
Sector Code: ABST47 - CFA: 4

Overview of the major contemporary artists. Analysis of the relationship between art and fashion. Comparison between the work of artists and the work of designers. Art languages in fashion.

Fashion History and Design 2
Sector Code: ABST48 - CFA: 6

National and international overview of the latest trends in fashion design. Analysis of emerging brands and comparison with established brands. Dynamics underlying new forms of design.

Methodology for Fashion Image Design 2
Sector Code: ABPR15 - CFA: 2

The functions of the stylist. Cultural background and aesthetic references. Interpreting trends. Fashion editorial work. Communicating the visual identity of a brand or an event. Production of images for portfolio creation. Theme-based photography workshops: image research, moodboard construction, clothing, accessories, and props selection. Working in a team to reflect the concept and personal stylistic choices.

Computer Graphics for Fashion 2
Sector Code: ABTEC38 - CFA: 4

Photo retouching and post-production techniques. Key tools for project processing and layout.

Fashion Product Communication 2
Sector Code: ABPC67 - CFA: 10

Social media management in digital marketing strategy. Analysis and understanding of communication tools. Creativity and objectives.

Fashion Publishing 1
Sector Code: ABPC67 - CFA: 12

The Italian and international publishing system. Analysis of major publishing groups. The target audience. Fashion editorial work. Development of fashion articles coordinated with advertising and photography. Advertising and communication: roles and tasks of the press office and PR. Analysis of actors and stakeholders. Relations with companies and the market. Organizing and managing a press folder.

Accessories Design
Sector Code: ABPR34 - CFA: 3

Development and composition of an accessories collection. Terminology of accessories: footwear, bags, belts. Materials. Merchandising plan.

Eco-Fashion and Innovative Techniques for Fashion
Sector Code: ABPR34 - CFA: 6

The world of eco-sustainable fashion from the perspective of ethical/global product development. Sustainable materials and production processes. New technologies for more responsible production. Human rights in the global textile industry.

Psychology and Sociology of Color Applied to Design
Sector Code: ABST58 - CFA: 2

The psychological and emotional aspects of color in fashion and marketing. Implications of cultural differences in the use and aesthetics of color. Communication strategies and social behaviors for the establishment of iconic colors in fashion.

Elements of Copyright
Sector Code: ABLE70 - CFA: 3

Elements of private law for the protection of copyright in the publishing field. Methods to safeguard intellectual property.

Language 2
Sector Code: ABLIN71 - CFA: 8

English language and review of grammar rules. Written exercises, tests, conversations, dialogues, readings related to the fashion world.

Fashion Image Design Methodology 3
Sector Code: ABPR15 - CFA: 2

Advanced skills in pattern-making and garment construction for the realization of the final collection.

Computer Graphics for Fashion 3
Sector Code: ABTEC38 - CFA: 4

Techniques for creating a professional portfolio and one's own online graphic presentation.

Fashion Product Communication 3
Sector Code: ABPC67 - CFA: 10

Communication 4.0: the connection between the company and its stakeholders. The customer becomes the protagonist, no longer a passive consumer but a special collaborator of the company. The brand becomes an experience to be shared. Events as a communication strategy for fashion companies. Types of fashion events. Fashion events at every stage: creative design, development, production, budget control. Strategies for understanding, communicating, and promoting personal resources. The fundamental elements of archetypes and verbal and non-verbal branding languages. Analysis of resources, goals, and personal audience. Communication plan for promoting oneself, one's brand, or one's business.

Fashion Publishing 2
Sector Code: ABPC67 - CFA: 10

Creation of editorial content. Sociology of the web: contemporary theories on the impact of changes brought about by the internet. Practical workshop for creating an editorial project: choosing themes and topics, writing texts, creating one's own editorial schedule.

Advanced Alterations and Fitting
Sector Code: ABPR34 - CFA: 2

Analytical, critical, and practical study of garments. Theoretical and technical skills for making alterations to previously produced garments, even complex ones like outerwear. Sewing and ironing techniques and tools for garment corrections. Professional fitting.

Language 3
Sector Code: ABLIN71 - CFA: 9

English language conversation on articles selected by students. Curriculum development in English and preparation for a job interview through role-play.

Fashion Startup Management
Sector Code: ABLE69 - CFA: 9

How to start an entrepreneurial project in the fashion industry. Major business models in the sector. Principles of modern entrepreneurship.

CFA: 10

Educational credits for elective subjects, labs, and work weeks.

CFA: 12

Individual work under supervision.
Professional Opportunities
The three-year degree course in Fashion Styling & Communication aims to train a professional figure capable of ensuring maximum visibility to the fashion brand by conveying an effective and representative image. Through communication and representation, they can describe the evolution of style over time, creating a narrative that evokes a modern and original brand image.
Work Placements
Our goal is to train students to effectively and quickly enter the fashion world. To achieve this, our Placement service constantly works to consolidate partnerships with renowned fashion brands, the most original fashion houses, and the most innovative start-ups. We have built stable yet dynamic relationships that promote talent and our vision of sustainable innovation in the fashion and luxury field. The Careers Office is in contact with excellent companies and agencies, allowing 90% of students to find important internship opportunities or start professional collaborations within 6-8 months after completing the course.

Career Opportunities
What are the main career opportunities offered by the three-year course in Fashion Styling & Communication?
Specializes in fashion communication. Their tasks include planning all activities related to advertising and other branding and promotion operations. They maintain contacts with the media world – print, radio, TV, web – understanding their objectives and potential, and work closely with the marketing division to define the best communication strategies.
Designs and manages the image of a brand or fashion collection for editorial or communication activities. They create an exclusive and unique image by interpreting the brand's identity, values, and aesthetics. They are familiar with and anticipate seasonal trends, staying up-to-date with the latest fashion scene. They are skilled at creating original combinations and telling visual stories, with the goal of creating the perfect image.
A journalist specialized in the fashion industry. They have accumulated significant experience in the fashion and luxury sector, understanding its trends and history. They have excellent writing skills and a strong critical spirit.
Requires comprehensive knowledge of the fashion and luxury world, as they coordinate and manage all aspects of a fashion show, overseeing the staff involved in the event and handling everything from set design, lighting, music, and models.
Make your passion a profession
Get informed now