Fashion Communication Management
Attendance
Full-time in-person
Language
English - Italian
Class size
Max 15 students
Tuition fees
EU citizens: €21.350
Non-EU citizens: €26.350
Objectives of the Fashion Communication Management Master
A visionary course combining creative excellence with innovation and awareness to shape successful fashion designers who are ethically responsible
Holding a leadership position within a luxury fashion brand requires professionals who are able to combine creative skills with business expertise.
Fashion communication professionals are key channels between fashion organisations and their consumers, and their role is to transmit the creativity and identity of brands through a variety of media.
Accademia del Lusso's one-year Master in Fashion Communication Management is an intensive, full-time course that enables students to follow every stage of a communication plan for a fashion or luxury product: briefing, defining objectives, marketing strategy, photo shoots, launch event, press release and more. By the end of the degree course, students will be confident in the planning of advertising campaigns, the promotion of corporate values, and the online and offline communication of a brand's vision and mission.
The course is taught by industry professionals who have extensive business knowledge, and there are many opportunities to network with and learn from other experts. Activities on this course include role-plays, presentations, photo shoots, group projects and individual research. There will be debates and discussions with visiting professionals, as well as numerous field trips to fashion and luxury locations.
The Master in Fashion Communication Management is organised in collaboration with eCampus University, one of the leading online universities in Italy, with career-oriented courses that are constantly updated and adapted to industry developments, guaranteeing an excellent and relevant education.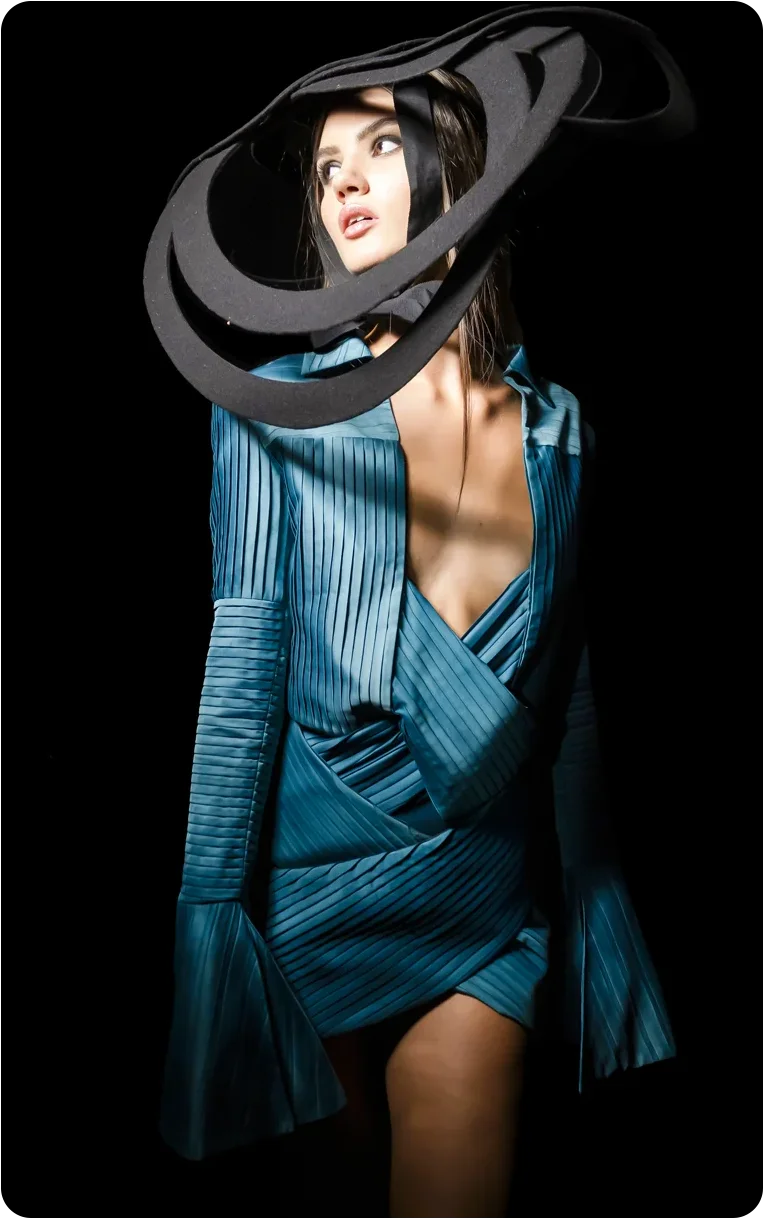 Qualification
This course is run in collaboration with eCampus University. On successful completion of the course, students will be awarded an accredited Master's degree worth 60 credits (ECTS).
Entry Requirements
3-year undergraduate degree or equivalent (following at least 15 total years of formal education)
Suitable level of English (or Italian if choosing the Italian-taught course)
Please see How to apply for information on admissions procedures
Key features
Expert teachers: the course is taught by industry professionals with relevant experience and insider knowledge
Gain experience: workshops, visits, seminars, networking opportunities and sector events offer valuable experience and contacts within the fashion industry
Work weeks: industry-based projects developing interdisciplinary skills
In-demand and relevant skills: gain strategic, creative, practical, and professional skills that reflect the demands of the job market
Facilities: you'll have access to our specialist labs equipped with the latest technologies
Constantly updated curriculum: courses are revised to match industry developments
Career opportunities: you'll be ready to enter the product area in design and other positions within the fashion and luxury industry and more
Shape the future: what you learn here regarding sustainable practice will ensure you have the skills and potential to shape the future of the industry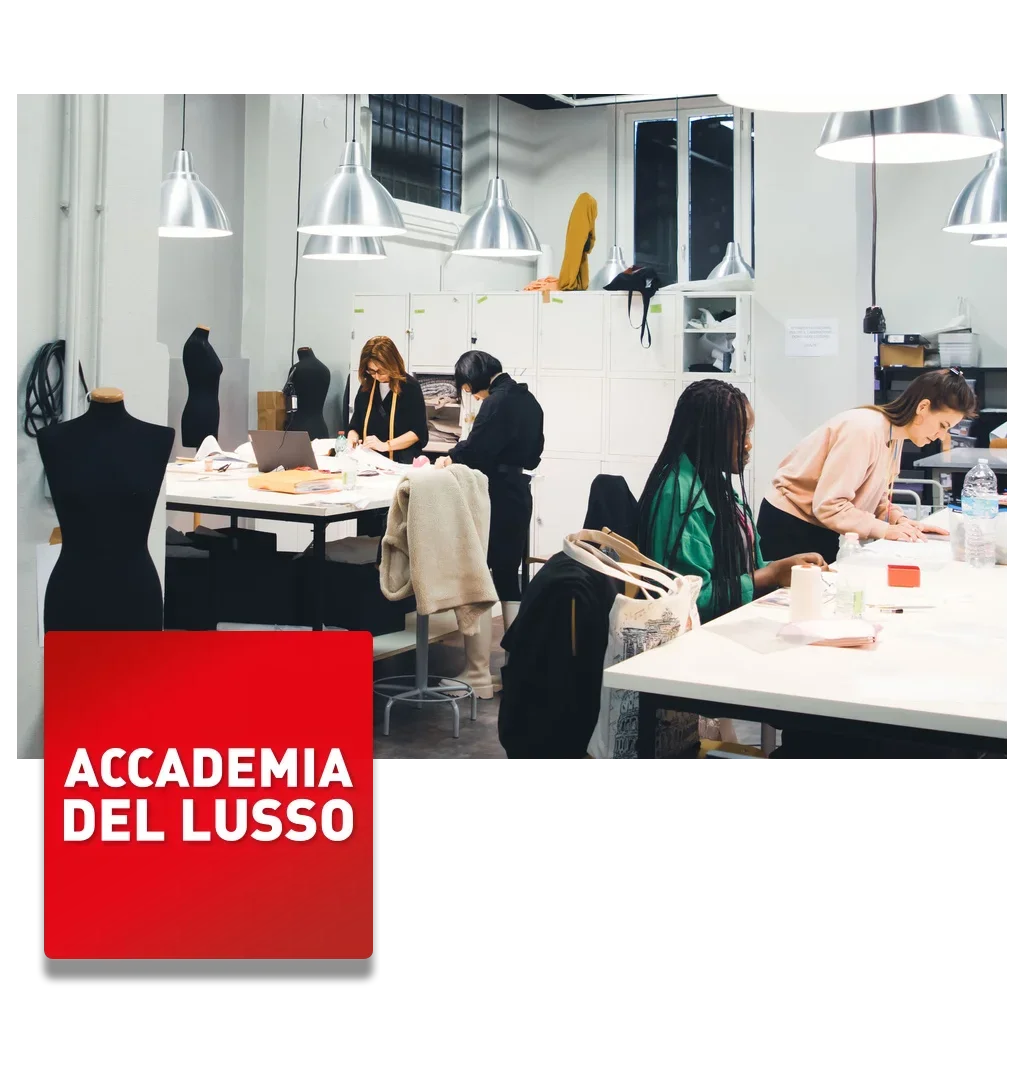 Teaching Method
The Master's degree in Fashion Communication Management includes lectures, seminars, practical workshops, group work, visiting experts, study trips, research methods, presentations, project work, and more. These will take place both in the school and at relevant industry locations.
Students' progress is monitored through regular assessment, and at the end of the course students will complete a dissertation (thesis) project.
Classroom Lessons
frontal teaching with mandatory attendance. Theoretical, theoretical-practical, and practical subjects.
External Visits
visits to museums and showrooms, analysis of fashion and luxury locations
Seminars
in-depth seminars with representatives from the fashion & luxury system
Work Week and Workshops
interdisciplinary training laboratory focused on the development of an assigned project
Study Plan
Made in Italy & Luxury Goods System
Duration: 27 hours - CFA: 3

Introduction to Made in Italy and the luxury goods system. Introduction to the history of Made in Italy from the 1940s to the present day. Presentation and discussion of case histories

Luxury & Fashion Marketing
Duration: 36 hours - CFA: 4

The key elements of luxury marketing. Evolution of licensing in Italy. The brand as a growth driver in the fashion industry. The licensing relationship. The lifecycle of licensing: from growth through agreements to internal growth through acquisitions. The creative Fashion & Luxury Marketing project. The brand and counterfeiting: legal issues

Trends & Research
Duration: 27 hours - CFA: 3

Analysis of major trends and the logic behind their definition. Study of major Italian and international style bureaus, relevant trend books, and the distribution system (trade fairs, showrooms, agencies). Final project: creation of a personal trend book

International & Fashion Markets
Duration: 27 hours - CFA: 3

Meaning, code, cycle, and process of the fashion system. Fashion: identity, ambivalences, anti-fashion, and theories. The cultural industry of fashion. Analysis of fashion companies with a propensity for foreign markets. Market analysis techniques, competition, and customer analysis. Regulations related to product export. Project work.

Fashion Graphic Design (Photoshop & InDesign)
Duration: 36 hours - CFA: 4

Introduction to vector and bitmap graphic programs used in the fashion field. Photoshop: acquisition of key tools, analysis of image management, and different photo retouching techniques. Creation of a mood board. Introduction to InDesign and layout design for editorial projects.

Fashion Journalism & Web Editing
Duration: 36 hours - CFA: 4

Introduction to journalism with a particular focus on the fashion sector. Introduction to the basics of journalistic writing and the journalism glossary with a focus on fashion journalism. The relationship between publishing and manufacturing companies. Analysis of the structure and methods of writing a fashion or lifestyle article. Meeting deadlines and word limits. Interview techniques. The online publishing system and analysis of the main differences from traditional publishing.

Press Office & Public Relations
Duration: 36 hours - CFA: 4

The role and tasks performed by a press office. Analysis of the differences between an in-house press office and an external one. Public relations: people and stakeholders. Relations with the media. Relations in business. Press conferences: organization and management. The press kit.

Fashion & Luxury Event Management
Duration: 45 hours - CFA: 5

Basics of event organization. Client's desires and presentation of a targeted proposal. Budget analysis and cost estimate preparation. The location, food and drinks, hostesses, gifts. Proper management of the mailing list: selection of guests, invitation design, save the date. Development of a final project.

Fashion & Luxury Communication
Duration: 36 hours - CFA: 4

The communication system. The consumer and brand positioning analysis. Analysis of communication strategies. Advertising campaigns. Public relations activities. Communication in the fashion sector. Presentation and discussion of case studies.

Styling & Shooting
Duration: 54 hours - CFA: 9

Production of fashion images for editorials, advertorials, advertisements, and lookbooks. Roles and key figures. Fashion stylist. Coordination and organization of a photo shoot. Execution of a shooting project based on the development of a personal concept according to the brief set by the instructor. Research and creation of a mood board. Model casting. Garment fitting. Photo shooting. Editing of the final project.

Social Media Management
Duration: 27 hours - CFA: 3

Internet, a continuously evolving continent. The concept of 'sharing culture' and social networks. Analysis of new forms and habits of consumption and behavior on social media. Trends in web 4.0 and understanding its dynamics. Basics of marketing 4.0 and its opportunities and hypotheses.

Personal Branding & Portfolio
Duration: 27 hours - CFA: 2

Developing and managing personal projects through planning timelines and resources. Creating a personal identity: logo, letterhead, business cards, and graphics for social media. Graphic design of a professional and impactful portfolio.

Work Weeks 1, 2, 3
Duration: hours - CFA: 9

One-week full-time experiences in which students work on the development of a project stimulated by a company or industry professional. The resulting projects are subject to evaluation.

Lab Thesis & Final Project
Duration: hours - CFA: 6

Frontal lessons with a tutor introducing the composition and organization of the thesis work. 8 meetings to complete the thesis.
Career
Graduates of this course will acquire a range of transferable skills and be able to cover various roles in the luxury system, from marketing to branding, licensing, distribution, and retailing to marketing.
Among a wide variety of strategical and practical skills, and a large breadth of targeted knowledge, the course ensures graduates have the skills to maintain direct contact with existing and potential customers, promote brand philosophy with targeted strategic and operational marketing actions, and follow the entire development and sales process of fashion products, curating the style, quality, image, and effectiveness of advertising campaigns in order to ensure the success and/or repositioning of brands.
Work Internships
Our aim is to prepare students to enter the fashion world effectively and quickly. To this end, our placement service is constantly working to consolidate partnerships with the most prestigious fashion brands, the most original maisons, and the most innovative start-ups. We have built stable yet dynamic relationships that promote talent and our vision of sustainable innovation in fashion & luxury. Our Careers Office is in contact with some of the best companies and agencies: this allows 90% of students to find important internships or professional collaborations within 6/8 months from the end of their course.

Career Opportunities
What are some of the main career opportunities offered by the master's degree in Fashion Communication Management?
responsible for managing a brand's communications in the marketplace and defining the mission and vision based on the brand's values and target audience.
makes a brand's position clear, concise, and known to its target audience, monitoring trends that may influence public opinion.
in charge of - and holds material responsibility for - organising, supervising, and carrying out tasks related to the organisation of events.
specialises in image management consultancy. A rapidly evolving figure central to the construction of personal brands.
Make your passion a profession
Get informed now